Using Healum's digital health platform to aid medical weight management service providers to support their patients to make healthy choices: A case study in implementing evidence based behaviour change techniques using digital solutions and services.

In this article we interview Healum's CEO and Cofounder Jonathan Abraham to talk about how Healum has worked with Doncaster Bassetlaw Trust in the spirit of co creation and partnership when implementing its behaviour change software for multidisciplinary teams of dieticians to use the company's digital solutions and mobile apps in the delivery of their tier 2 weight management programmes.

What is Healum's Purpose?

Healum is a digital health company with a mission to improve the health outcomes and quality of life of millions of people through its digital solutions that enable health professionals to deliver personalised proactive healthcare services for patients that motivate, empower and inform them to understand and make choices when managing their health. Making it easier for people to take control of their health in partnership with healthcare professionals is what everyone in our company gets out of bed in the morning to do. It's what motivates us to endlessly improve our digital health platform in the service of supporting people's right for personalised healthcare that addresses their needs and supports them in making the choices that can have the biggest impact on their health outcomes and those of their families.

What is the role of choice in all this?

Every individual is faced with millions of small choices that span over millions of moments in their lives. The choices we make form our lived experiences, lead to emotional responses, and engender behaviour patterns that dictate how likely we are to live the healthy and happiest life possible, given our endowments of DNA, where we live, our socioeconomic circumstances and the conditioning of our mindset. One of the biggest challenges that we face as individuals when trying to be as healthy as possible, is to understand the best possible choices that are most likely to result in the best possible health outcomes. If that wasn't hard enough, then trying to make those choices at the appropriate moments every day, week, month and year of our lives when we are geared to seek comfort and act out of habit is a colossal task.

At Healum we believe in supporting people who want to manage their health to work in partnership with trusted healthcare professionals, to better understand the best possible choices that are available to them, and to be able to put these choices into practice at the moments that matter during their lives. By providing our behaviour change software to healthcare professionals we aim to support them in delivering personalised approaches to weight loss and health management through the Healum mobile app. We are lucky to be working with some of the most inspiring healthcare professionals who are motivating and supporting their patients to overcome limiting beliefs and to make choices that underpin the healthy habits that will enable them to live their longest, healthiest and happiest lives.

What was the service that the Healum software and mobile app supported?

Doncaster and Bassetlaw Trust (DBT) delivered the 'Be Well, Feel Good' service. The 'Be Well, Feel Good' service uses a person-centred and compassionate approach to address underlying determinants that impact health, wellbeing and an individual's ability to take care of themselves. The programme consists of 12 group sessions delivered by Nutritionists with input from Cognitive Behavioural Therapists with an aim to help participants achieve their health and wellbeing goals, including weight loss. It has been a privilege for us at Healum to work with DBT due to our beliefs strongly aligning with their philosophy of providing empathetic, supportive, person centred advice and care to those that need it most, and this being at the heart of everything they do.

How does the Healum software and patient facing app support service delivery teams to use digital solutions to deliver evidence based behaviour change techniques as part of their service?

The Healum digital health platform, its software and patient facing mobile apps were co created with hundreds of patients and healthcare professionals over several years across a number of different healthcare services. Core to the design process was understanding what patients wanted and what challenges healthcare professionals faced when meeting those patient needs in a way that enabled them to efficiently deliver their service. A significant part of any weight management service is understanding and supporting people to change their eating and lifestyle habits and behaviours.

Since its inception the whole Healum team has been obsessed with understanding how it can aid organisations to deliver behaviour change support. In 2016, the company started to bring together service designers, behaviour change experts and UX designers in partnership with patients and healthcare professionals to look at how its digital solutions could enable healthcare professionals to support their patients at the moments that matter in their lives when making healthy choices. As a company we were struck by how useful the COM-B model of behaviour change was in codesigning digital solutions. At its essence it enabled us to identify how we could enable healthcare professionals that were delivering weight management services to support their clients or patients in building their capabilities, understanding their opportunities and addressing their underlying motivations to make choices and take actions. The combination of capability (an attribute of a person) and opportunity (an attribute of an environmental system) facilitates any particular behaviour, and motivation is an aggregate of mental processes to then enforce and direct this behaviour. The COM-B model states that at any given moment, a particular behaviour will only occur if the person concerned has the capability and opportunity to engage and is motivated to enforce this particular behaviour more than others (1). Alternatively, the Fogg Model lists the three factors that must combine at the same moment for a behaviour to occur as Motivation, Ability and a Prompt (2), simply put, this involves building a series of micro-habits to encourage the actions that then support behaviour. Understanding the pillars of behaviour change encourages empathy for the people trying to enact these changes at the moments that matter in their health and enables us to take a human-centred design approach to arming patients and their healthcare professionals with insights, information and digital tools.

Why are digital services important for any healthcare organisation that is supporting people to manage a long term condition or to lose weight?

All of the functions, features and user journeys in our app and software either support people to build their physical and psychological capabilities, to support people to understand the opportunities available to them to be healthy, to give people new social perspectives on their own health and to address their intrinsic or extrinsic motivations.

Healum's patient facing app allows patients to access a personalised care and support service that makes it easy for them to navigate and act on the medical and self-care choices that are available to them. It enables them to access help and support wherever and whenever patients are making choices and to understand their options in those moments. It provides people with a set of tools that support the adoption of behaviour change techniques that address motivation, which include goals and actions that enable people to be able to achieve what they want to, on their terms, and to track their progress against the plans they made, as well as the ability to connect with a community of people that are like them to positively reinforce healthy behaviour.
In summary the app enables them to:
Access support at the moments that matter, whenever and wherever they are from the healthcare professionals that deliver the service/ programme, from their peer groups on the service or from the content and tools shared as part of the service.
Learn how to manage their health and understand the health choices they have available to them and their families to enjoy the kind of life they want through the personalised content that is surfaced in the app.
Get more out of the service by making it easy to act on the health choices that they have made, through daily, weekly and monthly plans of goals and actions that have been created as part of a shared decision making process, supported by the content, services and messages.
Develop and maintain their motivation to be healthy by making it easy to monitor, track and understand their physical and mental health outcomes and efforts.
Build self-sufficiency and confidence once the programme has ended to choose goals, habits and routines, and to discover the knowledge, services, food, exercises and lifestyle choices that will aid them in achieving the health that they want.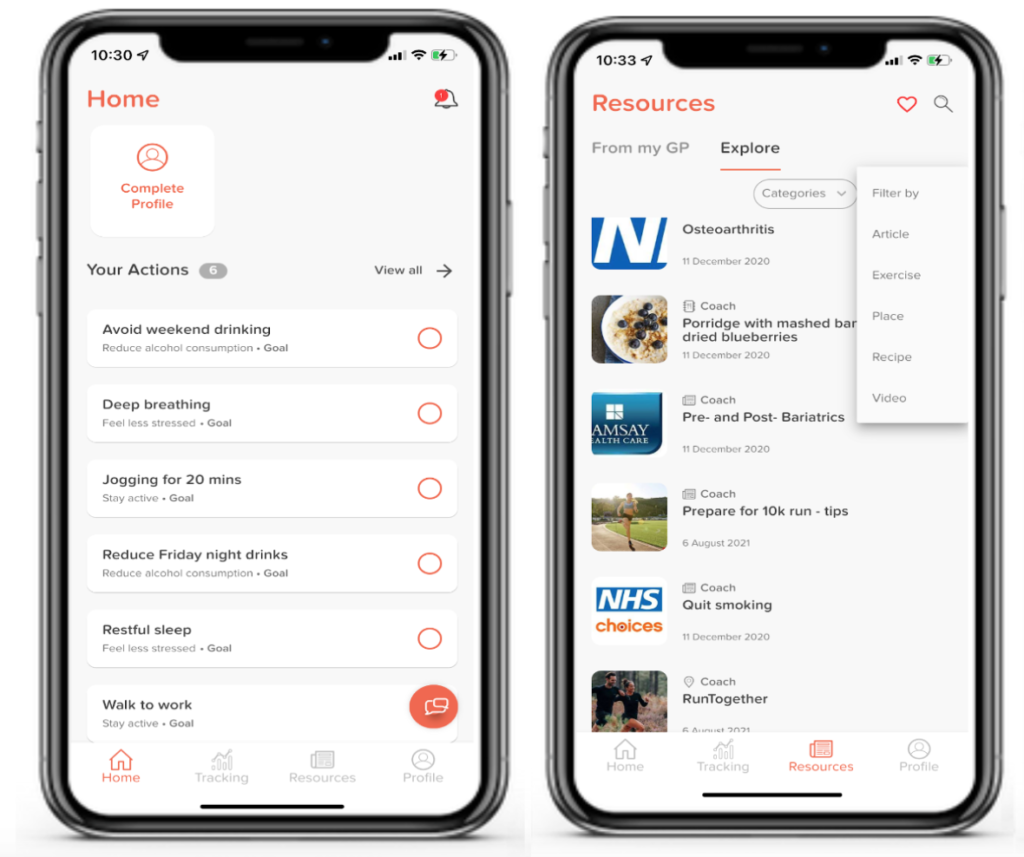 Healum's software for multidisciplinary teams, working in medical weight management or in delivery services that support patients to adopt healthy behaviours, enables them to:
Deliver their service in a personal way that achieves better outcomes by addressing the needs and underlying motivations of each client by making it easy and efficient to share relevant content and services that reinforces what they have taught clients.
Build motivation amongst clients to adopt healthy behaviours in a personal way, by enabling delivery teams to co-create plans of goals and actions with clients that are accessible each day in order to improve outcomes and confidence amongst clients.
Understand the efforts, progress and health outcomes of their clients after sessions in order to provide better support and motivational strategies through shared goal and health tracking.
Efficiently communicate with a greater number of clients, more often and at key moments, in order to improve operational efficiency, reduce the costs of delivery and improve outcomes by helping clients make better choices.
Understand what delivery strategies are working best, to get a better understanding of how to adapt their service to achieve the outcomes they want.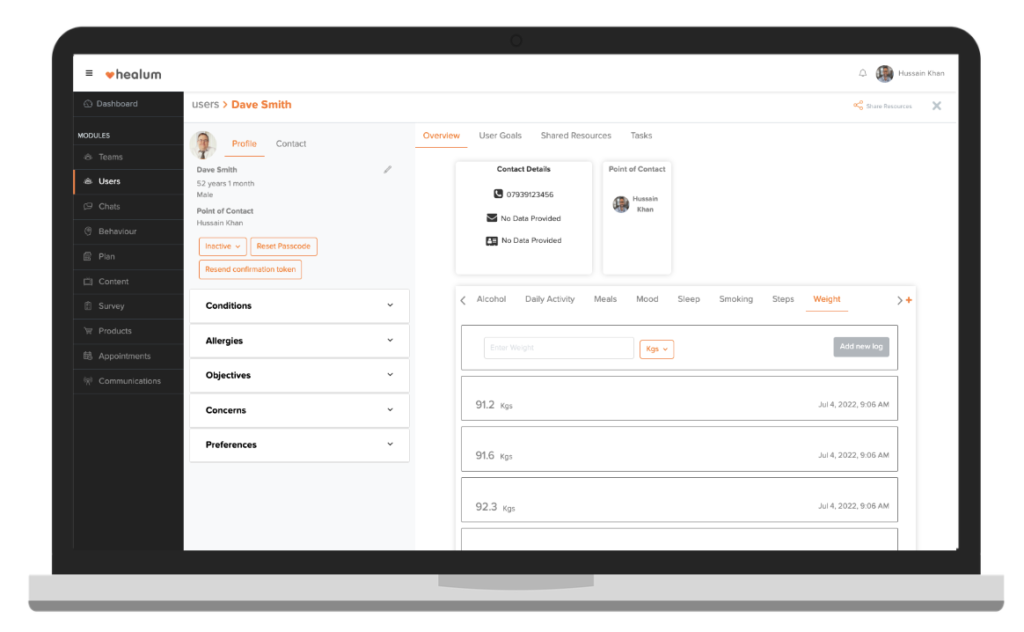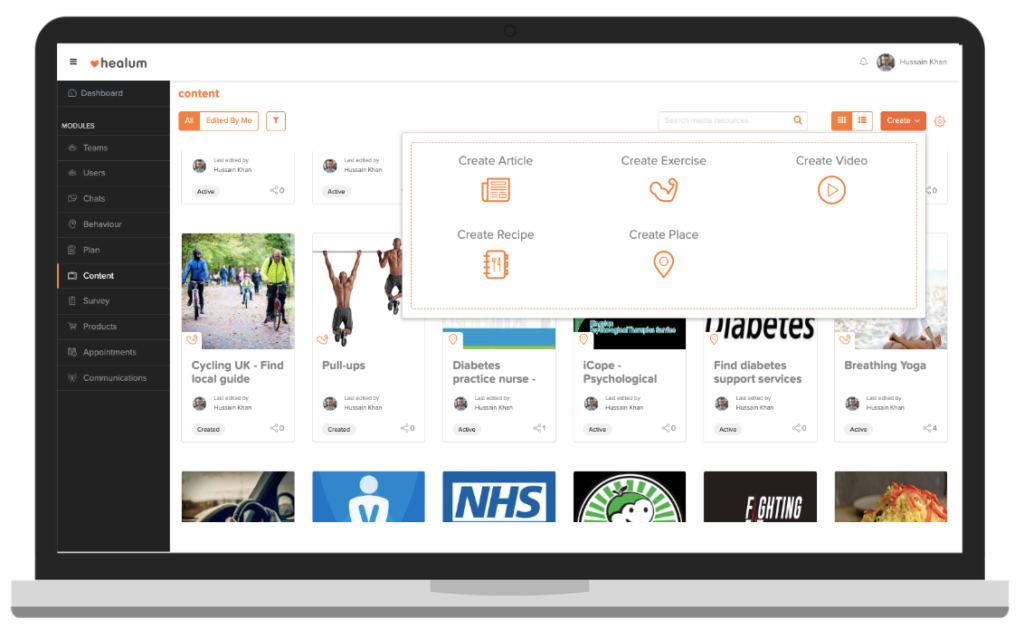 What is the background to Healum working with Doncaster Bassetlaw Trust?

With the aims of Doncaster Bassetlaw Trust to use the 'Be Well, Feel Good' programme to improve health outcomes, to provide patients with the best possible experience during the programme with empathetic, supportive and relevant care, and to address health inequalities within the Doncaster population, DBT and Healum mutually identified a way for digital solutions to support the way they deliver their programmes.

What role did Healum play in supporting Doncaster Bassetlaw Trust to deliver their programme?

The opportunity for digital to support this programme was met by providing the Healum solution, tailored to the aims of the 'Be Well, Feel Good' programme, to enable patients to achieve their health goals and to get more support in managing their health. It was configured to enable the service delivery teams at Doncaster Bassetlaw Trust to create personalised plans of education, support and motivational reinforcement, that addressed the unique needs of each individual patient.
Staff at Doncaster Bassetlaw Trust that were delivering the programme were able to:
set goals and actions as part of a shared decision making process with each patient
share relevant resources and services that support patients to adopt healthy lifestyle choices
monitor patient progress and outcomes around the goals and intentions they had set
message patients in between delivery sessions to answer questions and provide additional support

What were the results?
Patients that used the Healum app lost significantly more weight
Of those patients on the programme using the Healum app to manage their health 75% lost weight, compared to only 15% of patients who were not using the Healum app.
Patients were able to gain far more support at the moments that matter
758 conversations that took place between healthcare professionals and patients to provide helpful advice and empathetic support at the moments that patients needed it.
Delivery teams were able to better motivate and educate patients
524 goals were agreed and shared. Custom goals such as "'Allow for a smaller portion cake on son's birthday this weekend" were created. 2,976 educational resources such as 'Eat Well Guide' and 'NHS 100 calories snacks' were shared and viewed to reinforce health education.
The use of the software and app lowered the cost of delivering the service
Operational efficiency in delivering the service was improved by service delivery team members being able to share 2,976 resources through the app, instead of emailing or printing. All the service delivery team members reported that this function saved them time.
Delivery teams were able to understand their patients needs better
Actionable insights from 370 daily actions tracked and 758 chat messages could be viewed ahead of patient sessions each week, to enable more relevant motivating conversations.
Reducing health inequalities through personalised care
The Healum solution helps to address the health inequalities by supporting staff to tailor their approach to individuals based on their socioeconomic or cultural backgrounds. The app displays content in multiple languages, and contains tailored services for each person.


How can you successfully implement a digital solution that supports dieticians to deliver empathetic programmes of behaviour change?

The art and science of implementation represents both the biggest challenge and biggest opportunity when introducing digital services into frontline health services. Over the years we have worked with so many customers who were using a digital health platform to support their service delivery for the first time. A key factor in the successful implementation of the Healum solution within the 'Be Well, Feel Good', and these programme results, was collaborative working between the service delivery team at DBT and Healum. To successfully implement digital solutions in such a way that they can actually aid behaviour change, it is crucial to understand the perspective of the patients and healthcare professionals who will be using the solution. Identifying the specific use cases for our behaviour change software and mobile apps at each moment of the patient and delivery team's journey of care and using these as a method to test, was central to the whole approach. During our time working with the team at Doncaster Bassetlaw Trust both teams took every opportunity to collect multiple types of feedback and to then test whether our sets of use case hypotheses worked or not. It's an agile approach that enables us as a company to react to the needs of our customers when implementing our digital solutions, to make changes as quickly as possible and to identify training needs and better ways of making the most out of our product in partnership with our customer and their end users.

How did Healum work with the delivery team at Doncaster Bassetlaw Trust?

The implementation and delivery system Healum used with Doncaster Bassetlaw Trust consisted of mapping out the process, brainstorming use cases, having weekly calls, listening to suggestions from the Doncaster Bassetlaw Trust team and then constantly adapting the product and the way it is used. This method of working allowed Healum to use patient insights, combined with what we see in the product, to really support people in the moments that matter.

Why is an agile approach important?

Healum uses an agile approach of working whereby we involve several rounds of feedback using methods from the lean start-up. In this way we test, revise, and continually gather customer feedback to rapidly iterate on and reengineer our products. This method of working, having hypotheses on what is working and then adapting these around our features and functions, ensures we are developing products that healthcare professionals and patients actually want to use.

What did both teams learn?

From weekly calls with the delivery team members, as well as dedicated feedback sessions, we had access to their invaluable insights into how Healums digital health products supported patients in their daily lives as part of the programme. An example of which was the popularity of the tracking feature, especially for weight due to lots of participants' enthusiasm for getting weighed as this motivates them during the programme. The possibility of having an additional tracker for food diaries was brought up, as during these weight management groups the delivery team often requested participants to track their food using a food diary in between sessions. We also had many of our product hypotheses confirmed, such as the sharing resources function of the software saving time for staff and reinforcing learning from the programme sessions, as described here by a staff member, "With the app you can just send through all the information to everyone because you're only sharing the client names so it is a lot easier and a lot less time consuming than using email" and here by a patient, "I use the app to find the information that I have been taught during the class so I can refer back to it later and remind myself about what I need to know".Another hypothesis that was confirmed was the use of the chat function to support people to get help at the moments that matter in their care, described here by a staff member, "they really appreciate that support… say anything to give them a boost or help with their focus for the week and keep them on track".

Do you want to work with Healum to implement digital solutions that support your delivery teams to empower their patients to manage their health and adopt healthy behaviours?

If this way of working appeals to you, we invite any providers of integrated lifestyle services and health improvement teams in local authorities to come and work with us in this agile way. If you work in the areas of population health and digital health services and care about co-creation, improving health outcomes and addressing health inequalities then we invite you to be part of the journey. Together we can create digital offerings that support millions of people to make the right choices at the moments that matter. Get in touch with us.